YLVA MARIA THOMPSON - XXX TV SEX GODDESS
She was every spotty teenage pornhound's secret fantasy from Malmo to Manchester . . . anything but perfect, more naughty auntie than dropdead glamour babe. But Swedish TV sex siren Ylva Maria Thompson had bedsheets turning to teepees all over Europe. She remains, quite simply, the Queen of the TV sex presenters.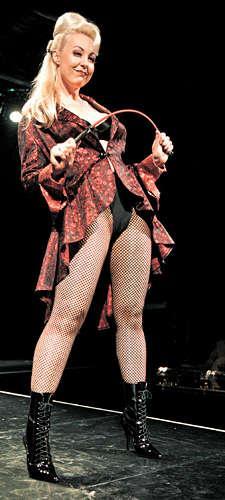 Swedish satellite and cable TV operators Viasat had Ylva Maria head up (and it usually was
) their legendary Tusen Och En Natt after-dark humpty slot on the premium channel TV1000. Twice a week, fans were given an extended helping of the curvy blonde before the showing of some infinitely less stimulating porn flick. Saturdays usually had Ylva in serious mode, discussing the finer points of Scandinavian sexual mores with invited guests and some dodgy stripper thrown in for good measure. Viewers across much of Europe couldn't understand a word, but they watched for the clips that often punctuated the babble . . . once including a never to be forgotten segment, featuring Ylva jogging round a Christmas tree in the snow wearing nothing but a Santa hat!
The real treat for hardcore Ylva fans, though, was Wednesdays . . . Wednesdays was Amateur Night on 'Tusen Och En Natt'. The schtick was a 30 minute show of home-video style rumpy clips before the nightly mainstream porn movie. But the highlight invariably was Ylva, sprawled alone on some dimly-lit couch in see-through black top and matching stockings and suspenders, to introduce the various short clips.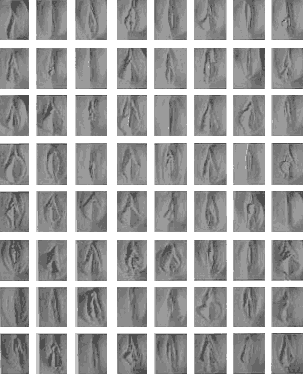 There was not a milli-ounce of silicon beneath those gauzy tops, not a thigh that had been near a gym beneath those naughty nylons. This was all real woman at its Y-fronts busting best.
She came from the golden age of porn on TV . . . and we came with her
. The toothy grin, the wicked auntie laugh, those unmanagable bleached locks, every inch of pasty, jiggle wherever you might touch body, made Ylva a one-off. There'll never be another TV sex presenter to match her.
We only know of one movie in which Ylva went the full hardcore hog herself. She once showed a clip of the scene on her 'Tusen Och En Natt' Saturday special, giggling to couch guests afterwards that the young blonde they had just seen playing hide the salami was none other than 'Auntie Ylva' herself. She looks about 18 in the scene and is shaven-haven hot . . . but somehow, still not quite as hot as the more mature Ylva we all grew to know and love. The full scene was later shown on TV1000 in the Scandi compilation flick, Erotiska Svenska Masterverk. The same flick re-emerged in recent times on Dutch provider Canal Digitaal's 24-hour porn flagship, X Zone. Definitely one for the special collection tape drawer.
Today, many moons after being dumped by the crazed fools at Viasat, Ms. Thompson has carved a career for herself as something of an avant-garde artist. She has fashioned a particular niche for latex and plaster-cast artworks of women's back and front bottoms. Her talents are wasted. We don't care if she's kissed goodbye to 40. Bring back Ylva, that's what we say . . . humpty on the box has never quite been the same without her!